Several of us recently had the opportunity of attending the Academy of Urbanism Congress in Belfast (sponsored by The Paul Hogarth Company) and what a fantastic 3-day event it was.
The mix of speakers and conversations were truly inspirational, from those working within Belfast to international experiences from around the world, one message was resonating across all – people!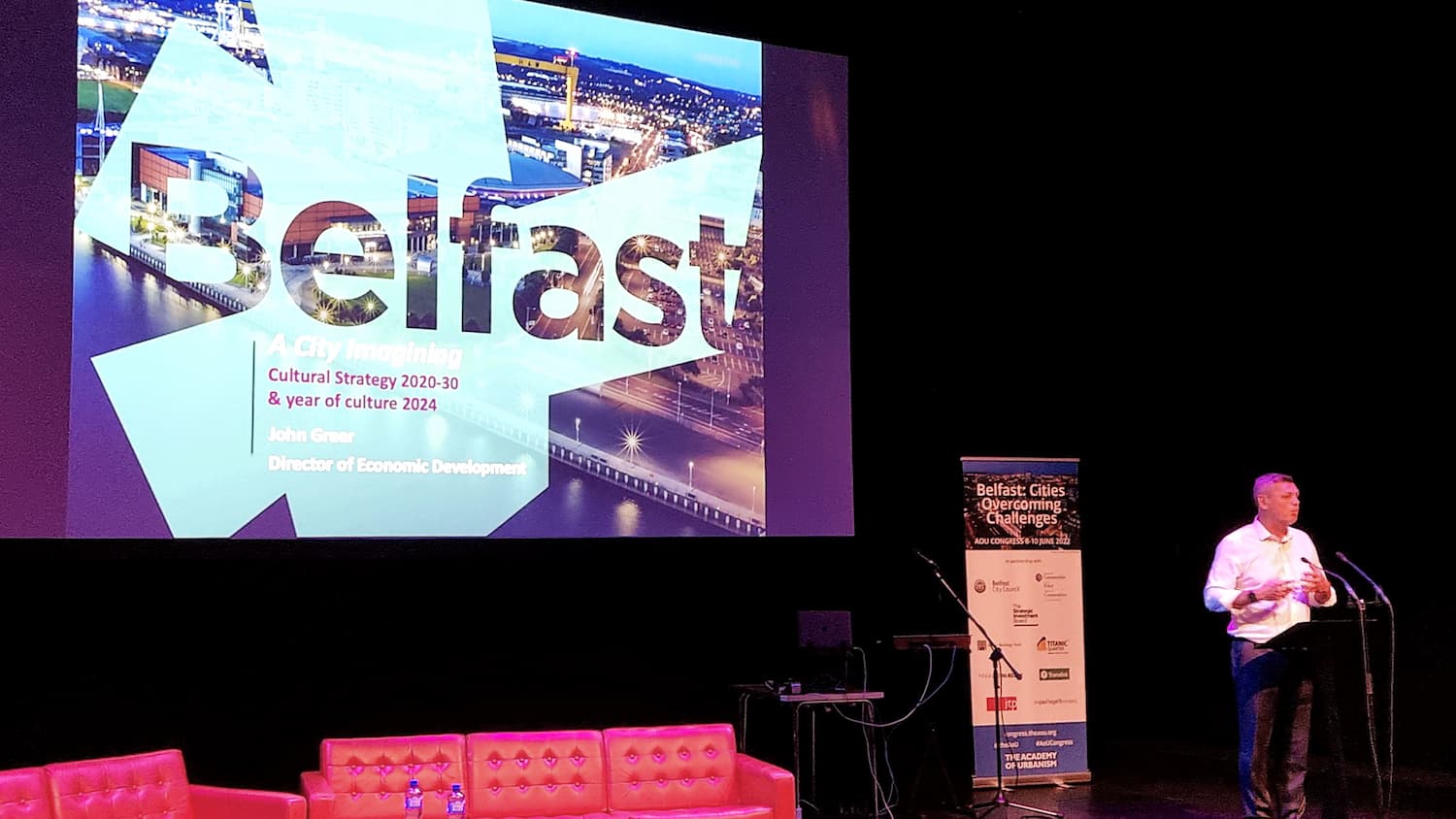 It was interesting to see this focus coming through from not only designers but economists, politicians, strategic advisors, community partnerships and youth organisations, truly highlighting the idea that everyone is an urbanist.
Thursday morning was spent within the MAC, in the heart of the cathedral quarter, where I would like to add that a range of tasty scones were on offer! Speakers explored the idea of turning visions into actions, Belfast as city for people, how cultural drive leads to meaningful change and the very important fact that if we want people led regeneration, we need the infrastructure to support it. It was exciting to hear from the Eastside Partnership to see what is happening in East Belfast and all their work since TPHC's involvement in the Connswater Greenway.
The afternoon gave everyone an opportunity to tour a range of sites across the city including Maritime Mile, Inner East, Shaftesbury Square, Grand Central Station and Cathedral Quarter – gaining insight into ongoing challenges and projects across Belfast. This led to an exciting session in the Ulster Museum where Anuela Ristana, Deputy Mayor of Tirana, Albania, shared her experiences, inspiring and showing us how a city for kids is a city for everyone; from their investment in playspace, to their programme of teaching young kids to cycle and use the cycle lanes in the city. Surely if you see a 3-year-old cycling in the city we as adults might think we can ditch the car and cycle too. The day then closed with an atmospheric flute and cello recital, which had everyone mesmerised and spell bound by the music.
The last day was yet another jam-packed programme which started by looking at delivering quality placemaking. Ramon Marrades, Director of Placemaking Europe reflected on his work on the Valencia waterfront, explaining an interesting concept which I think should apply to all our work, the 10 second rule…… if a public idea can't be ruled out in 10 seconds, then commit to making it happen!
Conversations then moved to learning about resilience from people rooted in Belfast. We heard some blunt and stirring truths about the climate emergency but also the reality at community level where people are thinking about getting to the end of their week rather than the climate agenda.
The afternoon included a session on climate leadership with speakers from just down the road in Fingal to further afield in Spain and Eindhoven with a recurring message encouraging us all to be bold, brave, and just get things done. The final keynote speaker, Stephen Willacy, talked about his work as City Architect, Aarhus sharing his creative solutions to challenges and reiterating the order of priority in regeneration; 1. City, 2. Urban Space, 3. Building Design. Once again, we were listening to an example of a city that 'just gets on with it'.
The event closed out with a delicious dinner and drinks in the impressive Titanic building, some fantastic live music performances and James blazing a trail on the dance floor. What a great 3 days for a congress on urbanism, many thanks to the AoU for organising such an incredible event and to the 22 Belfast based artists who inspired us throughout with music, voice and song. I think we are all very much looking forward to continuing conversations and putting lessons learned into practice.
Alison Hope is a Senior Urban Designer and Planner with The Paul Hogarth Company.